July 18th 2008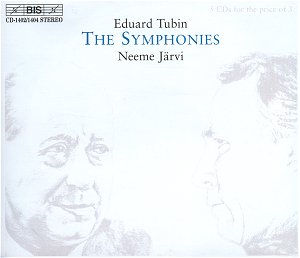 Eduard TUBIN (1905-1982)
The Symphonies (1931-1973)
Swedish Radio SO (1,2,3,6,8)
Gothenburg SO (7, 9, 10, Toccata)
Bergen PO (4)
Bamberg SO (5, Kratt)
Neeme Järvi (conductor)
5 CDs for the price of 3

BIS BIS-CD-1402/1404 [5CDs: 63.20+64.01+62.46+65.24+75.49]
Rob Barnett says
The Fifth is driven as is the Third, full of the sort of chaffing energy we find in Stravinsky's Symphony in C but more humane, I think. Rhythmic life is one of Tubin's hallmarks and he does not lose sight of this even in contemplative serenades such as the looping and weaving andante of the Fifth.
Tubin Symphony 5 Mv1Allegro Energico here
Tubin Symphony 5 Mv2 Andante here
These works are predominantly dark or chilly. A midnight shiver and glimmering casts a spell over the high pianissimo of the opening of the Second Symphony which is nominally Sibelian. The finale of No. 2 after a blurted out brass alarm launches a mysterious piano-adumbrated chase with suggestions of a jazzy high-hat drumkit.
Tubin Symphony 2 finale here
The Sixth Symphony often has the protagonists standing near the edge of abyss - aware of the chaos below and the coarse-coursing attack that drives Tubin further and further from conventionality. That said he does not dally with dodecaphony though a dissonance, freely applied in the manner of Prokofiev, is part of his armoury. Tubin's powers and principalities do indeed clash by night as in the caustic mysteries of the Eighth Symphony
Tubin Symphony 8 finale here
Their conflicts are played out in sunlit regions although, as in the finale of the Third, Tubin is not averse to glowing heroics. That line can be traced into the Fourth which is well named the Lirica. You can make easy converts to the Tubin cause if you go straight to the second movement allegro of this work which dances along with potent fragrances from Borodin and Rimsky mixed among the gestural Prokofiev material.
Tubin Symphony 4 Sinfonia lirica 2nd Mvt here
After the prayerful mood of the andante the joyous and straight-talking Allegro, decked out with the warm rolling sway of horn calls, makes its smiling mark. This is a concert performance given in Bergen in 1981 - a concert that ignited the Tubin renaissance as much as BBC Northern's 1977 broadcast of George Lloyd's Eighth Symphony was the progenitor of the Lloyd revival. Tubin's Ninth is stark and sober; relatively difficult to grasp - in this respect comparable with Rubbra's Eighth (Teilhard de Chardin) and Tenth (da Camera). The 1937 Toccata chaffs along with piano and brass providing galvanic ignition. The Seventh Symphony mixes grotesquerie with the sort of bleak sea-wandering you hear in Nystroem's Sinfonia del Mare, Slavonic witchery and mysterious pattering marches.
Tubin Symphony 7 opening here
The single movement Tenth is resolutely dark-toned and at times has the bleakness of late Mahler (Symphonies 9 and 10).
Previous Quiz items and answers here